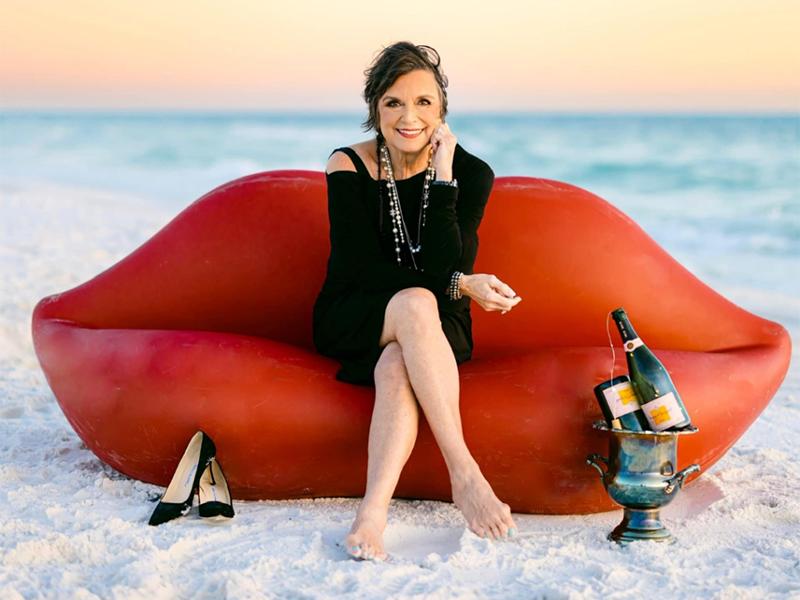 The Smile of 30A is my claim to fame, but I have not always had lips on my car, clothes, and business cards. It all started when I was on the phone with one of my friends… she had just arrived in Santa Rosa Beach. She said "Hey Linda, just wanted to let you know that I'm back on the smile!", meaning that she was back on Scenic Highway 30-A (which is actually shaped like a smile if you look at it on a map)! I thought that was the coolest thing hence why I decided at that moment to coin myself and my brand THE SMILE OF 30A.
Looking back now, it was the best decision I ever made in my life. It hasn't been an easy road to get to where I am now, yet I feel eternally grateful for all of the trials and tribulations that I have endured. They have filled me with the wisdom and discernment needed to run a successful real estate brokerage. The more I gained discernment to see the doors that God was opening before me, the more steps I took in faith to walk through them. To have a successful brokerage, one must have a powerful and distinguished brand image. Initially, I actually rejected the second-best idea that a friend had ever given me, an idea that I now recognize to be the biggest asset to my brand's image EVER. The signature photo of me sitting atop my red lip sofa on the beach would've remained a figment of my dear friend's imagination. He found the sofa online (part of Salvador Dali's collection) and told me that I needed to order it, hire the best photographer in Rosemary Beach, and have a photoshoot with it to use for my advertising. The sofa was pricey, the photographer was even pricier, and at the time I just couldn't see the bigger picture. I was living in fear, thinking "Will this investment really make that big of a difference in my business?". Thank goodness my dear friend Darrell Russell at A-Boheme convinced me to go through with it, because I can confidently say that I owe the success of my brand to that friend, photographer, and sofa that day. The same red lip sofa now sits outside of my own office welcoming all of my clients inside!
Smiling' red lips have been, and always will be a beauty staple. Just look at the legendary Hollywood bombshells, rock-and-roll queens, and famed characters that prove this powerful pout is truly timeless…
A study by CHANEL's Research and Development department and scientists at Gettysburg College in Pennsylvania found that wearing red lips can make the wearer look younger and more attractive due to a thing called 'facial contrast'. I'm no scientist, but from many years of experience, I can vouch that it also makes real estate a lot more fun!
As The Smile of 30A, I am known for my signature red lips, so it's only natural that I get asked often about what lipstick I swear by.
I'm sure it comes as no surprise that my ALL TIME FAVORITE is CHANEL! Chanel Arthur 44 is my go-to shade,
At my office, we make sure everyone gets their own shade of red.
Drop by anytime for a FREE Red Lips Sticker and a smile from yours truly. Photos on my RED LIP SOFA are always allowed and encouraged. May you find your own shade of red and have loads of fun in the process!